You are looking at hiring a new employee. You ask for proof of their Health and Safety training from them and receive different types of certificates. Some state the student took the course in the classroom, online or complete skill and knowledge. Do you feel lost? You are not the only one!
This blog aims to help demystify the terms used on those certificates.
Safety Training Canada
First,  you want to determine what is the workers' knowledge and skills needs to perform their work safely. An easy way to determine your worker's training is to analyze the task the worker will be doing by answering some of the following questions: What hazards will they be exposed to? What is the equipment they will use? 
Here are two examples:
A person working in an office must take a worksite orientation, WHMIS and First Aid courses as basic safety training. 
On the other end of the spectrum, a worker in a process plant will need WHMIS, First Aid, Power Mobile Equipment Training, Fall Protection, Confined Space, Fire Safety, and Detection and Control of Hazardous material.
Note that these are suggested protocols for safety training in Canada. The exact requirement will vary based on the jurisdiction and site of the workplace. 
Assess if the course content can be theory or should it require the student to demonstrate their skills. 
WHMIS is an excellent example of a course that can be theoretical only. 
Operating a Skid Steer or First Aid training are courses in which student knowledge is increased and better retained if they have to perform the hands-on skills—also known as skills assessment or practical. 
Knowledge is indeed power. However, with our experience we recommend an employer to resist the urge to put a blanket training policy in place. Unrequired training can harm the credibility of a good safety program training.
To understand the terms used in safety training, Canada relies on SAGA Universal. Here is a quick explanation of the different terms you may see on a certificate. 
Online: 
This student completes the course using an online course that covers the knowledge only. 
Instructor-Lead and Classroom: 
The student attended a course in a classroom or virtually. This course may or not require the student to complete skill assessments. The following wording typically identifies the certificate as "Knowledge" for the course that only reviews theory. When the student completes a hands-on practical, the certificate mentions "Knowledge and Skills." 
Blended: 
A blended course is a course in which the student completes the knowledge part online and completes a skill assessment with an instructor. The student will receive a certificate stating they completed the "Knowledge and Skills." 
Competency Assessment: 
Some employer requires their worker to complete a skills assessment every year to ensure the worker is still competent in their skills. We see this for Power Mobile Equipment and Rescue course. It is still best practice to get the workers to revise the theory every three years to ensure they are current with the latest Technique, Standards, and Legislation. 
Courses like First Aid training and Transportation of Dangerous Good (TDG), to name a few, are legislated by the Provincial or Federal government that the worker must retake the course every three years. 
Canadian companies trust SAGA Universal Training Corp. to help with workplace safety training needs.
How to differentiate a Saga Certificate: 
Saga offers three types of course delivery:
Instructor Lead, Blended and Online.
The first certificate indicates the student has completed a blended or instructor-led course.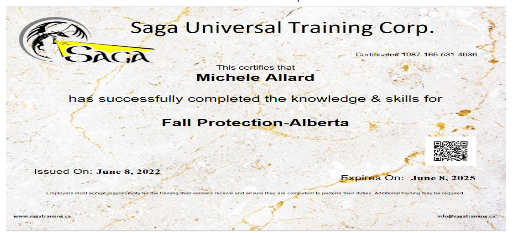 The second indicates that the student completed the online knowledge.

Fraud feature on Saga certificate:
We cannot talk about certificates without talking about the possibility of fraudulent certificates:
 Saga offer three ways to ensure the certificate is a genuine Saga Certificate first:
Certificate Search that you will find on our web page. This feature allows you to validate that the worker took the course. That the certificate you are looking at is not a fake. 
Each certificate has a unique identifier number. 
We added a QR code that allows you for instant identification or validation in the field.
We hope this information was helpful to you. If you have any questions feel free to contact us at Saga Universal Training.
Safety Training Canada Trusts
Saga Universal is the preferred authority in Safety Training Canada commercial, industrial and construction companies rely on our team to provide up-to-date training certifications, guidance and methodologies to keep crews safe. Safety training in Canada ensures you are up to standard for all regulations and preventing accident, and safety training will have you equipped to avoid or handle emergencies in the most effective manner.
The best in Instructor-led and online training and much more!
Are you looking for your safety certifications, instruction and expertise? Ask about our train-the-trainer program for your company! SAGA Universal has the best prices for safety training Canada can count on, with trusted knowledge gained during decades of experience working in the industry. Get in touch with our team today via email at info@sagatraining.ca or by phone: 780-612-5159